Rent a car in Iceland with a GPS navigation system - Budget Car Hire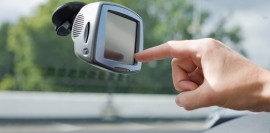 Whether traveling for business or pleasure, Budget car rental wants you to make the most of your time in here in Iceland. For that reason we are offering state of the art Garmin GPS navigation units as an option with all our rental cars.
These units feature a simple and easy interface with colour touchscreen, spoken directions and automatic route calculation to any destination in Iceland. Included are specialised maps of Iceland including major points of interest such as hotels, petrol stations, restaurants and tourist destinations.
How to book your GPS navigation system with you car hire in Iceland
When you book your car hire in Iceland select the GPS from "extras" in the booking process or simply ask for one at our rental station when you pick up your car hire in Iceland.