Refuelling options for the ultimate in convenience & choice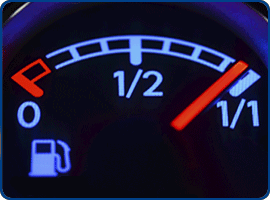 When you hire with Budget, we always ensure you have a full tank of fuel to begin your rental. However, we appreciate some customers may wish to return their vehicle full, whereas others may want to avoid the hassle of refuelling altogether.
That's why Budget offer a range of fuel options, allowing you to select the best one for your personal circumstances. We understand car rental can be difficult and it's our goal to change this by making all our products and services transparent for our customers.
Fuel Up Front
When you collect your Budget car it will have a full tank of petrol. Return it with a full tank after your trip and there's nothing to pay. If you haven't got time to refuel we can do it for you, at the costs of the fuel plus a refuelling service fee.

To take the hassle out of refuelling, we also offer other fuel options.
You can choose Fuel Up Front and order a full tank of petrol or diesel before you go at the average market pump price.

With Fuel Up Front, no refund is given for any unused fuel unless you Bring Back Full. If you return your car with a partially full tank you will not be entitled to a refund.
Pay On Return
You will be charged for any fuel required in order to return the tank to full. Price includes a re-fuelling service charge but you will only pay for the litres of fuel you use. Check with a member of staff when collecting your hire car to confirm what the charges will be.
Bring Back Full
Budget will supply you with a full tank of fuel at the beginning of your rental. You will then be expected to return the vehicle with a full tank. Any mising fuel will be charged on the Pay On Return basis outlined above.
These fuel options above are available at all Budget stations across Iceland. Fuel prices will vary from country to country.

If you have any further questions about our fuel options, please do not hesitate to call our Service Center on: (+354) 562 6060. Feel free to ask any question to our rental station staff, we want to ensure you are comlpetely happy when renting with Budget.