Allowing younger drivers to hire a vehicle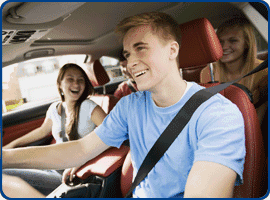 Young or old, hiring a vehicle can be a fun experience.
If you are a younger driver, you should be aware that you may by liable to pay a young driver surcharge when collecting your vehicle.
We have selected 2 key questions to keep the information simple and succinct. We understand car rental can be difficult and it's our goal to change this and make all our products and services transparent for our customers.
What is a Young Driver Fee and to whom does it apply?
Drivers in Iceland must be at least 18 years old. All drivers must have held their license for at least one year before the start of the rental. The driver must hold a valid licence throughout the period stated in the rental agreement. In other respects, Icelandic law shall apply to the driver.
Drivers who are 18-19 years old are subject to an additional young driver fee in order to drive standard vehicles. Luxury cars and other specialty vehicle categories: Drivers must be 23 years old.​
Young Driver Fee is charged on the rental agreement when closing the contract upon return of the rented vehicle, along with all other potential charges.​​​​​
For further information about Young Driver Fee in Iceland, please do not hesitate to call our Service Center Team on +354 562 6060.
Does Young Driver Fee apply only in Iceland?
Young Driver Fee is applied at all Budget stations Worldwide.
To find out the driver age requirements and Additional Driver Fee abroad, please check the Budget homepage of the renting country or find the infomration in the Location Specific Conditions document which you can download from our homepage at https://www.budget.is/TermsAndCondition after selecting the renting country and exact location.